Press release
Earl of Wessex officially opens new agricultural showgrounds at Balmoral Park
The Earl of Wessex today opened the New Royal Ulster Agricultural Society venue at Balmoral Park, Maze, Lisburn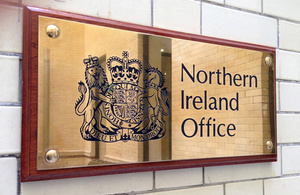 HRH The Earl of Wessex today visited Northern Ireland and undertook two separate engagements in Co Down. He was greeted on arrival at Belfast City Airport by Mike Penning MP, Minister of State at the Northern Ireland Office, who accompanied him throughout the day
His first engagement of the day was to officially open the new Royal Ulster Agricultural Society (RUAS) show grounds at Balmoral Park, Maze, Lisburn. On arrival HRH was greeted by the Lord Lieutenant of Co Down, David Lindsay alongside the Mayor of Lisburn City Council, William Leathem. Jeffrey Donaldson, MP for Lagan Valley was also present.
This is the first year that the RUAS have held the famous 'Balmoral Show' at the prestigious new premises. Until 2012, the agricultural show was held at the King's Hall in Belfast when it sold the site for redevelopment. Balmoral Park will give agricultural show the ability to adapt and grow to keep up with the increasing demands placed on it every year. The move will allow the event to offer many improvements, including better parking, more space, additional livestock competitions and world-class attractions. It is hoped that the new showgrounds at Balmoral Park which will be the catalyst for a centre of rural excellence for Northern Ireland.
During his visit the Earl of Wessex visited the Garden Village, where he met with the Young Farmers' Clubs of Ulster, the Northern Ireland Bee Keepers' Association as well as members of the Women's Institute. HRH also had the opportunity to view the Northern Ireland Food Pavillion which hosts a number of artisan producers, together with farmers supplying the food industry and Agri-food winners.
Following a lunch in the President's Pavilion, HRH unveiled a plaque to commemorate the opening of the new Balmoral Showgrounds, before viewing the Cattle Judging, the Sheep Shearing Competition and the Poultry exhibits. .
The second engagement of the day was to The Hub Counselling Project at Ballynahinch, a new project in Ballynahinch which was established by the local churches. On arrival HRH was met by Chairperson and Minister of First Presbyterian Church, Rev Mairisine Stanfield and Centre Manager, Deborah Boden and heard about the 2 strands of help that is offered to those needing support with mental health issues. Jim Shannon, MP for Strangford was also present.
HRH then took the opportunity to visit The Edge cross-community youth centre located just a short walk from the Hub. He met the Chair of The Edge Board, Clare Woodward and Centre Manager, Claire Porter who presented a number of young people from the youth centre who had embarked on Outward Bound Projects to Romania and Poland.
HRH also had the opportunity to meet with pupils of Ballynahinch High School and St Colman's High & Sixth Form College who were involved in a number of community activities.
Before departing, HRH accepted an invitation to sign the visitor's book and was presented with Edge Hoodie Jacket and Mug by 2 young volunteers.
Published 15 May 2013