News story
Earl and Countess of Wessex Visit Giants Causeway
Their Royal Highnesses The Earl and Countess of Wessex begin a second day of engagements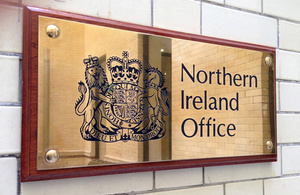 Their Royal Highnesses The Earl and Countess of Wessex have begun a second day of engagements with a visit to the Giant's Causeway Visitors' Centre and World Heritage site.
The Giant's Causeway in County Antrim became the property of the National Trust in 1961 and is the only World Heritage Site in Northern Ireland. The Causeway is recognised across the globe for its land and seascapes, archaeology and social and cultural importance.
The Earl and Countess were greeted by Mrs Joan Christie OBE Lord-Lieutenant of County Antrim and went on to meet Mr Roy Bailie OBE Chairman of the National Trust in Northern Ireland and Ms Hilary McGrady Northern Ireland Director.
The Royal Couple drove the short distance to "Stookans Point" accompanied by Ms McGrady, Mr Max Bryant the General Manager (North Coast) National Trust, and Melissa McQuitty and Gavin Lapworth Trust Rangers.
TRHs then walked the short distance to the Causeway stones and enjoyed the views of the site and had the opportunity to meet tourists visiting the site.
The Royal Visitors returned to the Visitors' Centre and joined a reception hosted by the National Trust in their honour. Guests included representatives from the Project Team and funders for the new Giant's Causeway Visitor Facilities, and local National Trust staff and volunteers.
The National Trust in Northern Ireland is leading the work on an £18.5million project for the provision of new world class visitor facilities at the Giant's Causeway, with funding support from Government, Northern Ireland Tourist Board, Heritage Lottery Fund, and the National Trust.
Mr Bailie OBE, offered a few words of welcome to The Earl and Countess before inviting Mrs Biddy Carson, a National Trust volunteer and former tea-room manager at the Giant's Causeway, to present gifts of a lithographic print of a painting of the Giant's Causeway and a pack of National Trust Causeway Leaf Tea to the Royal Couple.
The Earl and Countess signed the visitors' book before departing for the next engagement.
Published 9 June 2010