News story
Earl and Countess of Wessex set sail for Rathlin Island
On the second and final engagement of the day Their Royal Highnesses The Earl and Countess of Wessex are visiting Rathlin Island, the only inhabited offshore island in Northern Ireland.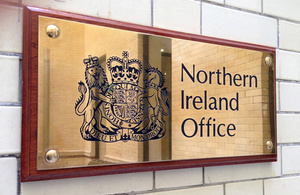 With a population of around 100 it is the most northerly inhabited island of the Irish coast. The 'L' shaped island is 4 miles from east to west and 2.5 miles from north to south. Rathlin is 15.5 miles from the Mull of Kintrye in Scotland and is part of Moyle District Council area.
Departing from Ballycastle Harbour the Royal Couple were accompanied by Mrs Joan Christe Lord-Lieutenant of Co Antrim, Mr Robert McIlroy, Vice Chairman Moyle District Council, and Mr Richard Lewis, Chief Executive.
Following the 30 minute crossing The Earl and Countess were welcomed ashore by Mr Noel McCurdy Chair of Rathlin Community Development Association (RCDA) and Miss Marianne Green RCDA Youth Representative,
The Earl and Countess attended a lunchtime reception in the nearby 'Bruce's Restaurant'and met a number of guests representing the varied community life on the island.
The Royal Couple then walked to the nearby Visitors' Centre and had the opportunity to view some of the artefacts depicting the history of the island and accepted an invitation to sign the visitors' book.
TRHs accompanied by Mr McCurdy and Ms Green, went on to visit the Island's only school to meet Mrs Helen O'Halloran, Principal and spend some time talking with pupils.
The Earl and Countess are expected to spend the afternoon touring the island.
Published 9 June 2010