Press release
EA and Sedgemoor Council release : River Parrett barrier workshop
The technical meeting held today in Bridgwater to discuss the River Parrett barrier had over sixty delegates from various organisations, councils and community representatives.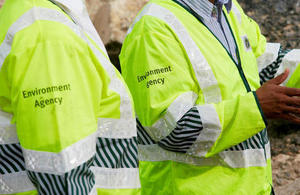 The primary aim of the meeting was to bring all parties up to the same level of understanding as there have been various studies over the years. The meeting also considered the various design options for a flood defence barrier following the floods of 2012 and 2014.
There were presentations and discussions from national experts, tapping into examples of best practice from across the country. There was constructive feedback from all parties which will inform the future work of the group.
There was a positive commitment from all parties to work together to deliver what the Minister has asked for by the 2024 deadline as identified in the 20-year flood action plan.
There are already permissions and processes already agreed to construct a surge barrier. The group will review this to make sure that this technical solution is the best possible option. A report will be complied by September which will set out the way forward.
During the summer, a working group will be keeping up the momentum that has been generated from the meeting today.
Ends
Published 9 June 2014