Press release
DWP to recruit new Pensions Ombudsman and Deputy Pensions Ombudsman
The Department for Work and Pensions (DWP) will shortly commence recruitment for a new Pensions Ombudsman and a Deputy Pensions Ombudsman.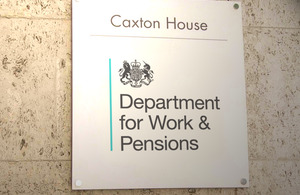 Tony King, the current Ombudsman, will stand down from his post in late spring 2015. Jane Irvine's second term as Deputy Ombudsman ends next autumn.
Minister for Pensions, Steve Webb said:
I am grateful to Tony for the impact he has made on performance since he took up office back in 2007. He has successfully led the office through a period of change as it modernised its working methods and IT systems.

I also want to thank Jane for the hard work she has put into the Deputy Ombudsman role, and in particular for her flexibility towards her workload which greatly helped the office deliver on its targets. I wish both of them well for the future.
Tony King said:
I have hugely enjoyed my time in almost 8 years as Pensions Ombudsman. Since I joined we have made a great deal of progress in becoming more informal, flexible and efficient.

In the next few months we will be introducing further important developments, making us more accessible and emphasising our service users' needs and expectations. I have decided that when those are established it will be a good time to step down so that the office can continue to develop under new leadership and I can pursue other interests.
Jane Irvine said:
I have very much enjoyed my 5 years as Deputy Pensions Ombudsman. It has been a challenging and interesting role.

As I did not plan to stand for a third term, I thought it would be helpful to make this clear now so that DWP can recruit for both the new Ombudsman and Deputy at the same time.
Both post holders will be flexible about their departure dates to ensure a smooth transition when the new Pensions Ombudsman and Deputy Pensions Ombudsman take up their posts.
Jane Irvine is aligning her departure with Tony King to DWP to launch a combined recruitment exercise for these roles. These posts are combined with the separate roles of Pension Protection Fund Ombudsman and Deputy Pension Protection Fund Ombudsman.
More information
Tony King was first appointed in 2007. In August 2013 he was appointed for a third term of 4 years.
The Deputy Pensions Ombudsman is a part-time role. Jane Irvine was first appointed in November 2009 and was reappointed for a second 3 year term in November 2012. Both post holders are appointed by the Secretary of State for Work and Pensions.
Contact Press Office
Media enquiries for this press release – 0203 267 5120
Press Office
Caxton House
Tothill Street
London
SW1H 9NA
London Press Office (national media and London area enquiries only – not questions about personal claims) 020 3267 5144
Out-of-hours (journalists only) 076 59 108 883
England and Wales (local media enquiries) 029 20 586 then 097 or 098 or 099
Scotland (local media enquiries) 0131 310 1122
Follow DWP on:
Published 17 October 2014