World news story
DWP tackling UK benefit fraud in Spain and beyond
Department for Work and Pensions (DWP) investigators based in Spain have recovered over 13 million pounds of UK taxpayers' money lost to benefit fraud abroad in the last decade.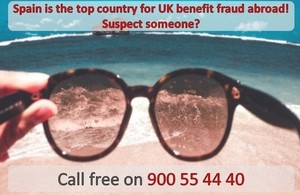 The International Fraud team in Spain has investigated more than 2,600 cases of benefit fraud overseas in the last decade. So far, this has saved the UK government over 13 million pounds. That is enough to pay the current state pension for over 2,000 people in the UK for the next 10 years!.
The majority of benefit fraud cases stem from people not declaring their property, businesses or even residency in Spain whilst they continue to receive UK benefits. The top three types of benefit fraud in Spain are pension credit, employment and support allowance and housing benefit. With an average of 130 cases per year, the majority of offenders live in the regions of Alicante, Malaga and the Canary Islands.
The International Fraud team depends on people's honesty to continue to call the free hotline to report those suspected of committing benefit fraud in Spain. HMA Simon Manley, said:
This phenomenal saving shows just how much money can be regained from tackling benefit fraud and how important public support is in this crucial effort, so I urge people to contact the hotline if they have any information. You will be making sure that benefit money goes to those who really need it.
If you notice someone with unexplained income and suspect them of committing benefit fraud, you can call the free and anonymous hotline in Spain on 900 55 44 40, open 8am – 4pm, Monday to Friday. The most valuable information to have is the suspected person's full name, age and where they are from in the UK.
All information provided is confidential and double checked in the UK before any investigation is initiated. You will be doing your bit to ensure that taxpayers' money, goes where it is most needed.
Published 23 November 2018