Press release
DVLA unveil the latest series of personalised registrations
DVLA unveils latest series of personalised registrations on its website.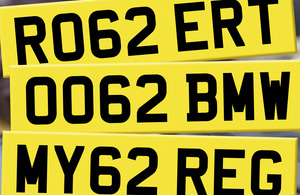 DVLA Personalised Registrations has unveiled its forthcoming series of registration numbers on its website.
These new registrations, all containing the number 11, will be available to purchase from 8:30am on 7 December.
Everyone has the opportunity to view the new series of registrations online
Damian Lawson, DVLA Personalised Registrations' Marketing Manager, said:
The introduction of the new 11 series opens up a whole new range of potential exiting registrations combinations, examples being FL11 GHT, ON11 ONS, MA11 COM, SM11 LES and HO11 OWS. I hope people enjoy browsing our website to pick out a registration that suits their needs.
Notes to editors
It is illegal to misrepresent a vehicle registration on a number plate. The rules governing their correct display can be found online in the FAQ section.
The 11 series is available to view now online. Registrations from this series will be available to purchase from 8:30am on Tuesday 7 December.
The on the road date for the 11 series is 1 March 2011.
Some registrations from the 11 series may be sold at future DVLA auctions.
Purchases must be made via the personalised registrations website.
There are around 6 million registrations to choose from in the 11 series. Over 40 million other personalised registrations can be viewed at DVLA Personalised Registrations website
Press office
DVLA Press Office
Longview Road
Morriston
Swansea
SA6 7JL
Email press.office@dvla.gsi.gov.uk
Telephone (only for use by journalists and the media): 0300 123 0791
Telephone (out of office hours – only for use by journalists and the media): 0300 123 2407
Published 1 December 2010