Dump divorce day and make mediation a resolution instead - Djanogly
Jonathan Djanogly is encouraging families to consider mediation as an alternative to court.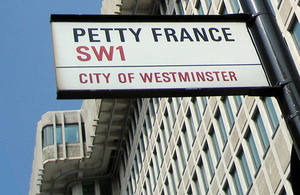 The first weeks of January see a much higher number of searches on Directgov for 'divorce' or related terms suggesting that this is a time when couples look into separating from their partners. But the process of separation and decisions about future arrangements for their children could be made simpler if families chose mediation, Mr Djanogly said.
He met with professionally trained family mediators at Cambridge Mediation Service who work with couples and families to reach agreements when they separate or divorce.
Mr Djanogly said:
'New Year is a time when couples can decide to part ways - but by turning to mediation instead of the courts people can take charge of their own futures and work towards a better outcome for everyone involved.
'Mediation is a quicker, cheaper and more amicable alternative, particularly where children are concerned as it gives parents the skills they need to think about the best interests of the child - not just in the short term, but for the future too.'
Mediation involves couples working through issues in the presence of a qualified mediator to make arrangements both sides can agree with, rather than putting lawyers and a judge in charge of deciding a couple's future arrangements.
Rules which came into effect on 6 April mean that anyone setting out to contest the terms of their separation in court will first be required to consider mediation. The Government has already increased spending on mediation for family disputes by two thirds, or £10 million, to £25 million each year, to allow separating couples to mediate.
Jane Robey, CEO of National Family Mediation, said:
'Our research shows more people decide to end their relationship after the New Year than at any other time. Often it is the stress of having to be together over Christmas and dreading the New Year that proves the final straw in a relationship.
'The only good thing is that this year more people will have the chance to find out about how mediation works. Mediation is quicker and cheaper than going to court and allows parents to agree long term arrangements for their children.'
Notes to Editors
Read 'More separating couples to be spared court battles' press release for more details.
Information for anyone considering divorce or separation, advice on some of the support and services available.
Searches on DirectGov for 'divorce process' are 71 % higher in early January than in early December (313 searches in first week of January 2012 compared to 183 in first week of Dec 2011).
More information can be found on National Family Mediation website.
For more information, please contact the Ministry of Justice Press Office on 020 3334 3536.
Published 6 January 2012