Duke of York visits Northern Regional College Ballymena
On his second engagement of the day, HRH The Duke of York visited the Northern Regional College in Ballymena to see the important work of the college in relation to training of apprentices under the ApprenticshipsNI Programme.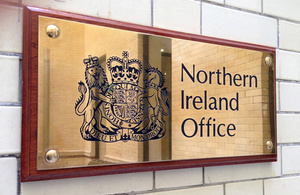 Northern Regional College (NRC) currently holds the Centre of Excellence status in two areas - Manufacturing and Mechanical Engineering and Construction and Built Environment. The NRC CoE in Manufacturing Engineering is based at the Farm Campus and has a long track record of developing and delivering courses to meet the needs of employers. Strategic partnerships have been developed with key employers, including Michelin, Toyota , Ryobi, Bosch, Wrightbus and Schlumberger, and provide tailored training provision to meet particular business needs.
The Duke of York was greeted on arrival by Alderman P J McAvoy, Mayor of Ballymena Borough Council. He went on to meet Ian Paisley Jnr, MP for North Antrim , Dr Stephen Farry MLA, Minister, Department for Employment and Learning, and Trevor Neilands, Principal & Chief Executive (who accompanied HRH during the engagement).
HRH began his tour with a visit to the Toyota Academy , a facility which provides leading-edge motor vehicle technologies and training resources to support not only the eight Toyota franchises, but also the whole of the Northern Ireland motor vehicle industry. He met with staff and students and heard at first hand how the academy ensures a focus on Apprenticeship and Adult training, with highly qualified technical staff and well resourced facilities.
Moving on HRH also visited the Centre of Excellence in Manufacturing Engineering and viewed the cutting edge technologies which help support the competitiveness of the manufacturing engineering industry in Northern Ireland and further afield.
HRH also took the opportunity to meet with staff and students from the Michelin Technical Training Centre which is located within the Farm Lodge Campus. This centre allows Michelin staff and NRC lecturers to deliver specific training in engineering maintenance within their own specialised workshops, as well as allowing Michelin to benefit from being able to recruit apprentice technicians through the NRC Apprenticeships NI programme.
Following a short discussion on the Apprenticeship programme over lunch, HRH was presented with a gift of a puzzle/pen holder which had been designed and manufactured in the Engineering Centre. This was presented by Joanne Donaghey, a Level 3 Mechatronics Apprentice. HRH was invited to sign the visitors' book before departing for his next engagement.
Published 6 September 2012