Duke of York visits Northern Ireland Science Park
His Royal Highness The Duke of York visited the Northern Ireland Science Park Foundation (NISP).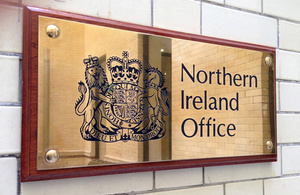 On his first engagement of the day, His Royal Highness (HRH) The Duke of York visited the Northern Ireland Science Park Foundation (NISP) where he met with the Foundation Board members for a short overview of the science park and the Innovation Centre.
NISP was established in 1999 to create a self-sustaining, internationally recognised knowledge-based science park in Northern Ireland. It is home to over 110 organisations with around 2,000 people employed, generating an estimated £80 million in salaries each year. The science park has created NISP CONNECT in partnership with Queen's University, the University of Ulster and the Agri-Food and Biosciences Institute, and proved the effectiveness of this model in accelerating science-based businesses.
The Duke of York was greeted on arrival by Dame Mary Peters, Lord Lieutenant of the County Borough of Belfast and went on to meet Frank Hewitt, Chairman of NISP and Norman Apsley, Chief Executive, who accompanied HRH throughout the engagement.
HRH also took the opportunity to visit 2 NISP companies within the Innovation Centre:
Path XL, a global pioneer in the use of web-based solutions for digital pathology
Sophia Research, which specialises in semantic search and text analytics
The Duke of York then viewed the Dry Dock where RMS Titanic was constructed, before moving into the famous Pump House. There he met with a group of young innovators who have completed the Generation Innovation programme which supports young people from Northern Ireland with the highest potential to succeed in the new economy.  Over 100 new members are accepted to the programme each year with a broad range of skills. HRH was then invited to view a number of large scale images and innovative technology depicting some of Northern Ireland's success stories in the 'Here and Now' Museum. 
HRH was invited to unveil a plaque to launch the mobile 'Here and Now' Museum and sign the visitors' book, before departing for his next engagement.
Later in the evening the Duke of York was guest of honour at a dinner in Hillsborough Castle to celebrate 'The role of Philanthropy in commercialising technology and driving the economy'. The dinner was attended by a wide range of Northern Ireland business leaders.
Published 29 January 2013