Duke of Edinburgh presents REME soldiers with Afghanistan campaign medals
His Royal Highness Prince Philip, The Duke of Edinburgh, has presented personnel from 2 Close Support Battalion Royal Electrical and Mechanical Engineers (2 CS Bn REME) with campaign medals following their return from a demanding six-month tour in Afghanistan.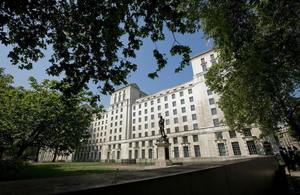 During the tour, which took place between March and October 2011, 2 CS Bn REME provided vital technical and engineering expertise in support of the NATO-led mission to prepare the Afghans to fully take over the security of their own country.
Prince Philip, who is the Colonel-in-Chief of the Royal Electrical and Mechanical Engineers, presented medals to members of the battalion during a ceremony at St Barbara's Barracks in Fallingbostel, in northern Germany, before attending a specially arranged lunch with military personnel and their families and then being shown some of the equipment 2 CS Bn REME worked with during the tour.
Addressing the soldiers during the parade, Prince Philip said:
I am proud to have this opportunity to present you with your well-deserved campaign medals for what has been a demanding tour.
Everyone in the United Kingdom follows very closely events in Afghanistan and is very proud of what you have achieved out there. None of that would have been possible without the support you have received from your families.
I hope that you will have a very happy Christmas and leave with your families.
2 CS Bn REME is part of 7th Armoured Brigade, better known as the Desert Rats, which supported 3 Commando Brigade in Afghanistan. During the deployment the battalion was responsible for the provision of repair, recovery, and general electrical and mechanical engineering support for all British land-based units across Afghanistan.
Its role as the Theatre Equipment Support Battalion included working on over 20,000 individual pieces of equipment, which ranged from heavily armoured vehicles and weapon systems, to security cameras, often operating in hazardous environments and coming under fire from insurgents. In total, 2 CS Bn REME took care of over 200 different types of equipment.
Corporal Jack Coates was one of around 150 members of the battalion to deploy to Afghanistan, and was promoted from Lance Corporal during the tour:
My main role was to diagnose problems with and repair the communications systems in theatre," he said. "It was really busy - I was based at Camp Bastion but deployed to various forward operating bases, patrol bases and checkpoints across Helmand from a few days to a few weeks at a time.
The equipment I worked on was essential for staying in communications with the soldiers on the ground and maintaining vehicle-to-vehicle comms.
It was a good tour and it was a huge surprise when I was promoted. I am glad to be back; it was a great honour to receive my medal from Prince Philip - a very proud moment.
The parade, which was watched by families and included a performance by the Band of the Royal Logistic Corps, and a specially arranged Royal Guard of Honour for His Royal Highness, was a proud moment for the battalion's Commanding Officer, Lieutenant Colonel Simon Hamilton:
This medal parade marks the end of our deployment to Afghanistan and we are honoured to receive our Colonel-in-Chief, His Royal Highness The Duke of Edinburgh," he said.
Our tour to Afghanistan involved a wealth of military and technical challenges that were met by members of the Theatre Equipment Support Battalion with ingenuity, determination and the highest professionalism. These great achievements were supported in full by the members of the Rear Operations Company who remained in the home base. They also worked tirelessly to ensure that our friends, families and loved ones received support throughout the duration of our pre-deployment training and then our deployment to Afghanistan.
Now safely home after their tour, the men and women of 2 CS Bn REME will enjoy a period of well-earned post-tour leave followed by a Christmas break, before returning to their base to begin training for the next potential mission.
Published 22 November 2011