Duke of Edinburgh opens Field of Remembrance
The Field of Remembrance to honour Britain's war dead was officially opened at Westminster Abbey yesterday by His Royal Highness The Duke of Edinburgh.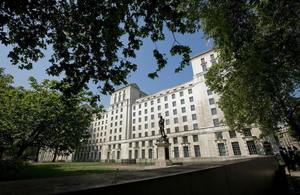 The Field of Remembrance pays tribute to all the brave Armed Forces personnel who have served in the UK military since the First World War.
The Duke was invited to lay a remembrance cross in front of two wooden crosses from the graves of unknown British soldiers by the Poppy Factory's President, Sara Jones.
Prince Philip - who was greeted by the Dean of Westminster John Hall and St Margaret's Church Rector Canon Andrew Tremlett - laid the cross in front of the First and Second World War graves.
The Last Post was sounded from the parapet of St Margaret's Church by two trumpeters of the Household Cavalry before the 'Ode of Remembrance' was read by Mrs Jones who lost her husband Lieutenant Colonel Herbert 'H' Jones in the Falklands War. Mrs Jones's reading was followed by a two-minute silence.
During his visit, the Duke spoke with war veterans, Royal British Legion members and current Service personnel.
Lawrence Bohana, aged 72, served with the Royal Welch Fusiliers for 35 years. He said:
It's absolutely wonderful [Prince] Philip still gives the time to come round and do this. It's quite an honour - we're fiercely loyal to the old chap.

We're extremely lucky in this country to have a royal family with such close ties to the services. It makes us servicemen fiercely proud of them.
Every November, the annual Field of Remembrance at Westminster Abbey is organised and run by the Poppy Factory. Over 350 plots for regimental and other associations are laid out in the area between Westminster Abbey and St Margaret's Church.
Remembrance crosses are provided so that ex-servicemen and women, as well as members of the public, can plant a cross in memory of their fallen comrades and loved ones.
The Field is opened for eleven days each year, from the Thursday preceding Remembrance Sunday to the following Sunday.
Major Howson started the Field of Remembrance in 1928 with a few disabled ex-servicemen from the Poppy Factory. They grouped around a battlefield cross, familiar to those who had served in Flanders and the Western Front. With a tray of poppies, they invited passers-by to plant a poppy in the vicinity of the cross.
This year's Field of Remembrance at Westminster Abbey will close on Sunday 18 November.
There are five other Fields of Remembrance located around the UK: Lydiard Park near Royal Wootton Bassett, Belfast, Cardiff, Edinburgh and Gateshead.
Published 9 November 2012