News story
Duchess of Gloucester at the opening of Jordanstown School
HRH The Duchess of Gloucester today visited Jordanstown School, Newtownabbey, which caters for pupils with hearing and visual impairments.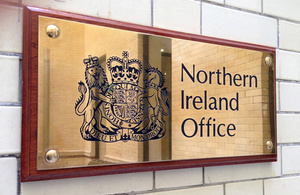 The school's new facility provides staff and pupils with the very latest in assistive technologies and caters to the requirements of pupils with hearing and visual impairments. As well as being a specialist learning environment offering a unique child-centred approach to communication and education, the school is equipped with the latest testing and therapy facilities.
Upon arrival HRH was greeted by the Lord-lieutenant of County Antrim, Mrs Joan Christie OBE. Moving inside the school and accompanied by Mrs Anne Magee, Principal, Jordanstown School, HRH visited a number of classrooms. In the first room HRH met pupils who are partially sighted and blind some of whom have additional needs, classroom assistants and teacher Mrs Jacqueline McCann
HRH met pupils who are partially sighted and deaf, classroom assistants and their teacher Mrs Joan McNeill in the Home Economics Suite. Moving on HRH met pupils who are partially sighted and blind, classroom assistants and English teacher Ms Ruth Sturgeon.  HRH also visited the Science Laboratory and met pupils who are partially sighted, deaf and speech impaired, sign language assistant Mrs Agnes Carberry and teacher Mrs Judith Boal.
Proceeding through the Sensory Courtyard to the primary classrooms, HRH met pupils aged 4 to 7 years who are partially sighted, blind and deaf, classroom assistants and their teachers Mrs Gail Lawther and Miss Frances Stroud. Later HRH met pupils aged nine to eleven who are deaf, classroom assistant and teacher Mrs Barbara McQuiggan.
In the Speech and Language Therapy Unit HRH met speech and language therapist Mrs Yvonne Kerrigan and a pupil receiving speech and language therapy.
Later in the Foyer HRH met the school's trustees and board of governors. On the stage in the sports hall HRH listened to 16-year-old student Aoife Devlin, who is blind, sing a solo in English and Italian known as "The Prayer", signed by seventeen year old Jamie Rea who is profoundly deaf.
Reverend Clyde Irvine, Chair, Trustees and Board of Governors, Jordanstown School, said a few words of thanks before inviting HRH to unveil a plaque to commemorate the official opening of the school.
Principal Anne Magee invited 13-year-old student Matthew Hunter, who is partially, sighted to present HRH with a gift of an engraved plate depicting communication between deaf and visually impaired children, before inviting HRH to sign the visitors' book.
Prior to departure HRH was presented with a posy by 10-year-old Alanis Millar who is deaf.
HRH was bid farewell by a number of children and teaching staff with the school's Samba Band providing background music.
Notes to editors
Upon arrival HRH was greeted by the Lord-lieutenant of County Antrim, Mrs Joan Christie OBE and went on to meet:
Alderman Billy Webb, Mayor, Newtownabbey Borough Council
Ms Jacqui Dixon, Chief Executive, Newtownabbey Borough Council
Reverend Clyde Irvine, Chair, Trustees and Board of Governors, Jordanstown School
Mrs Anne Magee, Principal, Jordanstown School
Published 7 December 2011