Press release
Duchess of Cornwall leads storytime at Dundonald Library
Her Royal Highness The Duchess of Cornwall, Patron of The National Literacy Trust, visited Dundonald Library near Belfast and read a story to around 20 children from local primary schools.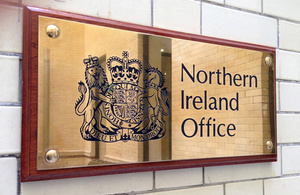 The National Literacy Trust has been delivering the National Young Readers' programme in Northern Ireland for over five years. The Trust's current work in Northern Ireland with Primary Schools and Libraries aims to target over 1,100 disadvantaged children, inspiring them to read for pleasure through fun events. The Trust also works with families to engage parents and carers to support their children's literacy development.
On arrival HRH was greeted by Mr David Lindsay, Lord-Lieutenant of County Down.
Her Royal Highness, accompanied by Ms Irene Knox, Chief Executive, Libraries NI, went on to meet Ms Viv Bird, Chief Executive, Booktrust, Mr Jonathan Douglas, Director National Literacy Trust and representatives from Libraries NI, Mrs Kim Aiken, Learning Development Manager and Ms Valerie Christie, Children's Services Manager and Dr David Elliott, Chairperson, Libraries NI.
HRH joined a discussion on literacy in Northern Ireland, children's' services and reading activities in partnership with the National Literacy Trust and Booktrust.
In the main Library Her Royal Highness joined the "Storytelling Event" with children from Brooklands Primary School, Dundonald Primary School, Longstone Special School, Tor Bank Special School and Letterbox Children's Club.
HRH went on to meet Mr Paul Howard, Children's Book Illustrator, and then was invited to read to the children an extract from a storybook illustrated by him entitled "Mockingbird". HRH and Paul Howard distributed books to the children at the end of the reading.
Later HRH met a number of Fosters carers and children, School principals, Libraries NI Board members and Libraries NI Staff
Following a few words of welcome from Ms Irene Knox, Her Royal Highness accepted a gift of three children's storybooks entitled "Lost and Found" by Oliver Jeffers, "Guess How Much I Love You" by Sam McBratney and "Owl Babies" by Martin Waddell from eight year old Emily Stothers, a pupil of Dundonald PS.
HRH also accepted an invitation to sign the visitors' book commemorating the visit.
Notes to editors
On arrival HRH was greeted by Mr David Lindsay, Lord-Lieutenant of County Down, and went on to meet:
Mr Ian Webb, Sheriff for County Down.
Councillor Mrs Vivienne McCoy, Mayor, Castlereagh Borough Council
Mr Stephen Reid, Chief Executive, Castlereagh Borough Council
Mrs Naomi Long MP, Member of Parliament for East Belfast
Mr Nelson McCausland MLA, Minister Department of Culture, Arts and Leisure
Dr David Elliott, Chairperson, Libraries NI, the public library service for Northern Ireland
and
Ms Irene Knox, Chief Executive, Libraries NI.
Text read by HRH:
'Mockingbird' by Allan Ahlberg and Paul Howard
Hush little baby,
Don't say a word,
Mama's gonna buy you…
a Mockingbird.
If that Mockingbird won't sing,
Papa's gonna buy you…
a garden swing.
If that garden swing gets stuck,
Polly's gonna buy you…
a pedal truck.
If that pedal truck tips over,
Rosie's gonna buy you…
a dog named Rover.
If that dog named Rover runs away,
Granny's gonna chase him…
if it takes all day!
If it takes all day and starts to…
rain,
Mama's gonna hurry you home again.
She'll wipe your face and dry your hair,
sit you up in your own high chair,
tie your bib and for goodness' sake
Papa's gone and baked you…
a birthday cake.
Tired little baby, sleepy head,
Mama's gonna tuck you in your bed.
Close your eyes, don't say a word,
maybe have a dream…
of a Mockingbird.
The National Literacy Trust is an independent charity that transforms lives through literacy.
Letterbox Club focuses on improving the educational outlook for children aged 7 to13 years in foster care.
Booktrust is an independent charity dedicated to encouraging people of all ages and cultures to engage with books from an early age.
Published 4 February 2011