Press release
Dstl invests £3.6m to improve defence simulations
Industry is being funded to improve force and environmental representation in simulations and synthetic environments.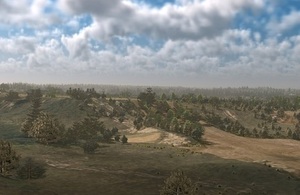 A defence supplier team led by XPI Simulation (a Thales company) has been awarded a £3.6million contract from the Defence Science and Technology Laboratory (Dstl). The team will be investigating future cost-effective methods and technologies to improve simulated technology for use by the Armed Forces.
The contract is part of the Synthetic Environments (SE) Tower of Excellence which brings together the Ministry of Defence, industry and academia to develop UK defence capability relevant to the use of simulation and SEs. The XPI-led team will look at force and environmental representations in support of training, concept development and experimentation, acquisition, evaluation and mission preparation.
The 4-year 'Simulation Composition and Representation of natural and physical Environments' (SCORE) project will carry out research and development towards a next generation of integrated representation of all types of forces, adversaries and operating environments. Specific areas to be addressed include representations of the outside world environment, such as terrain, features, weather and electromagnetic waves (EM) as well as force behaviour (e.g. systems, equipment, people, autonomy). This work will allow for greater integration between the joint, land, sea and air simulated forces and environments, and between NATO nations and other coalition partners, leading to cost-effective national and multi-national defence exercises and experimentation.
This is the third major contract placed by the SE Tower, complementing the work led by SEA on looking at Live Virtual Constructive simulation architectures, interoperability and management of systems, and the QinetiQ-led work looking at exploiting emerging technologies for defence training and simulation.
XPI Simulation will be supported by QinetiQ, Cranfield University, and Thales UK as core partners to deliver this work. The team can also access other specialist organisations from the SE Tower and the wider supplier base.
The SE Tower was originally initiated in 2004, with XPI Simulation playing a significant part in research into world leading real-time ray tracing technology and high fidelity driver training.
Bharat Patel, Dstl Senior Capability Adviser said:
The proposed integrated approach to developing these key components, with improved behaviour and wider EM representation, will provide future simulation capability with greater agility and affordability to train our people, evaluate our systems, and make informed decisions in a growing uncertain and ever more complex operational environment.
Simon Skinner, Managing Director of XPI Simulation said:
XPI and its partners on this programme have in-depth experience of the technologies involved in computer generated representations of the world and human activity within it. The SE Tower has been an important component of XPI's growth and success from a small business beginning, and as the industry lead we look forward to encouraging the growth of the defence supplier base.
Published 5 November 2014