News story
Dstl employee named Fellow of the Royal Academy of Engineering
Professor Tony Gillespie has been recognised for his outstanding contributions to engineering by the Royal Academy of Engineering.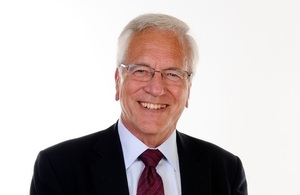 Professor Tony Gillespie, Systems Fellow at the Defence Science and Technology Laboratory (Dstl), has been awarded Fellowship of the Royal Academy of Engineering (FREng). Election to the Academy is by invitation only and in recognition of outstanding and continuing contributions to engineering. It follows nominations from existing Fellows and represents the pinnacle of achievement for any engineer.
The Academy named 59 new Fellows at its Annual General Meeting this week, including one Honorary and 7 International Fellows.
Tony was recognised for his research, leadership and technical contributions to military avionics, including the development of millimetric sensors, auto-routing and notably work on the development of electronically scanned antennas for UK fast jets. More recently, he has developed novel engineering methodologies to ensure highly-automated systems comply with international humanitarian law.
Tony is also a Visiting Professor at University College London with its Electronic and Electrical Engineering Department.
Andy Bell, Dstl's Chief Technical Officer, said:
I am delighted for Tony that he has been recognised for his career in military avionics and for the impact he has made.
Speaking of the Fellowship, Tony said:
I am very pleased to receive this honour which also enables me to continue making professional contributions after retirement from Dstl in November.
Published 18 September 2014