Dstl awarded for excellent financial reporting
The MOD's Defence Science and Technology Laboratory (Dstl) has won the 2012 Building Public Trust Award for 'Excellence in Reporting' in the public sector.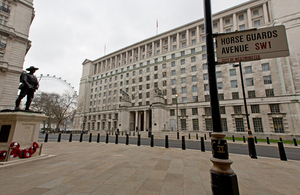 Jointly awarded by PricewaterhouseCoopers and the National Audit Office (NAO), the honour recognises the content, quality and linkage of Dstl's corporate plan 2012-17 and annual report 2012.
Nominees do not enter these awards; Dstl was selected as the winner following a review of the largest public sector organisations.
Dstl Finance Director, Mark Alexander, accepted the award from Amyas Morse, Comptroller and Auditor General of the NAO, at a presentation ceremony at the Dorchester Hotel in London last Thursday, 4 October. He was accompanied by Non-Executive Director Gerard Connell, Head of Governance Russell Smith and Corporate Secretary Joanna Wright.
Speaking after the event Mr Alexander said:
I'm delighted to accept this award for excellence in reporting from PricewaterhouseCoopers and the National Audit Office on behalf of Dstl - and in particular on behalf of our corporate reporting team who I think have done a tremendous job in improving the quality of our published reports, making them concise, informative and, above all else, transparent.

It's been a lot of work and they are worthy winners of this award.
Dstl maximises the impact of Science and Technology on the defence and security of the UK, supplying sensitive and specialist Science and Technology services for the MOD and wider government.
It starts from the presumption that work should be conducted by external suppliers unless there is a clear reason for it to be done or led by Dstl.
At present, around sixty per cent of the approximately £400m MOD non-nuclear defence research programme, managed through Dstl, goes to industry and academia to deliver.