News story
DSRL to attend nuclear decommissioning supply chain event
DSRL staff are to play a key part in a major forthcoming nuclear decommissioning supply chain event.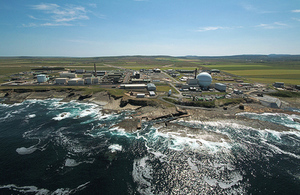 The high profile Nuclear Decommissioning Authority event is being held for the second year running and will be attended by two senior members of Dounreay's commercial team.
Joe Kane, head of commercial services and John Mainprize, commercial manager, reactors will be speaking on behalf of DSRL and sharing their experience and knowledge with nuclear decommissioning industry colleagues.
The NDA has invited its site licence companies to join them and share their supply chain vision with their existing and potential suppliers in the nuclear decommissioning sector and discuss the role of collaborative procurement, followed by participation in a 'meet the buyer' session.
For further information and to register for the event see: http://www.decommsupplyevent.co.uk/
Published 16 August 2012