News story
DSA searches for casual hire sites for module 1 motorcycle test
The Driving Standards Agency (DSA) is looking for more casual hire sites to improve access to the motorcycle module 1 test.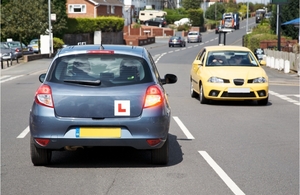 DSA is looking for sites in the following areas:
Mid Wales
East and West Yorkshire
Cumbria
Stoke-on-Trent
DSA may also consider other areas for casual hire sites, but this will depend on location and demand. If you're a driver or rider trainer who knows of any suitable sites ready to use, then DSA would like to hear from you.
Any sites you suggest must:
have suitable examiner accommodation, so will require office space and toilets as a minimum
be available for weekday or weekend use
have a surface with little or no work needed to bring up to a suitable standard, so it must:
be relatively flat
have a good quality tarmac surface with no significant hazards near the riding line such as drains, kerbs, posts, potholes or other damage
DSA won't consider any sites where the surface isn't suitable; for example, if it's made up of concrete, gravel, or compressed hardcore.
On road access for module 2 isn't necessary. You could also consider areas where road markings or paint need to be removed.
Motorcycle test module 1 site size options
There are 2 options:
a standard area of 125 metres long and 40 metres wide
a hockey stick shaped layout - this may be an option
DSA uses hockey stick shaped areas at VOSA sites:
the short end of the hockey stick needs to be around 40 metres (m) long by at least 5m wide
the straight should lead in to a 20m to 30m radius bend, travelling through at least 90 degrees
after the bend a straight section of approximately 100m long by at least 12m wide is required, there should be 35m (plus or minus 4m) from the exit of the bend to the 2 red cones at the start of the speed measuring channel
an area of about 40m by 20m should be available for the slower speed exercises
There's some flexibility in the above dimensions as they may have to be varied to suit the local area. Please bear these options in mind when considering potential sites.
Published 17 June 2011