Drug gang jailed for 20 years following one of UK's largest ever cocaine seizures
A gang of drug smugglers have been jailed for a total of 20 years in The Netherlands after Border Force officers foiled their plot.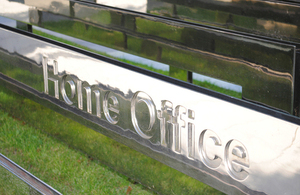 Border Force officers uncovered cocaine worth £300 million hidden inside a pleasure cruiser at Southampton docks last June. Weighing in at 1,000 kilos the haul was one of the UK's largest ever cocaine seizures.
Working with the Serious Organised Crime Agency and the Dutch National Crime Squad the gang members were tracked down and arrested from addresses across The Netherlands in August 2011.
Luxury yacht
Today the three men, all Dutch nationals, were convicted and sentenced following a two day trial in Rotterdam earlier this month.
The £1 million Dutch owned luxury yacht, the Louise, was targeted by Border Force as it was transported to Southampton aboard a cargo ship from the British Virgin Islands.
Specially trained officers from a Border Force cutter patrol boat conducted a six day forensic search of the entire yacht to locate the drugs. The cocaine was eventually found hidden deep beneath the bathing platform at the back of the boat, having been packed inside this specially prepared space while in Venezuela.
The seizure formed part of an operation with the Dutch police, acting on intelligence provided by SOCA's international network in close co-operation with the French Customs Investigation Service (DNRED).
When the Dutch National Crime Squad arrested the gang during early morning raids on 2 August 2011 they recovered €1.5 million, two Harley Davidson motorcycles, two firearms, a silencer along and a quantity of ecstasy.
Border Force's decisive role
Lab tests showed the cocaine, which originated in South America, was 90 per cent pure. The average purity of cocaine seized at the UK border is 63 per cent. If the drugs had reached the streets, once cut, it is estimated to be worth between £50 million (wholesale) and £300 million (street value).
Border Force director general Brian Moore said: 'Border Force officers played a decisive role in uncovering this significant drugs seizure, preventing 1,000 kilos or £300m worth of cocaine from reaching our streets.
'Today's conviction and sentences see a serious international drug smuggling crime gang brought to justice and clearly demonstrate how Border Force are playing a lead role in the fight against the global trade in illegal drugs helping to protect our communities here in the UK.
'This significant drugs seizure was made possible by the co-operation with our partners and the specialist skills of Border Force officers both among the cutter crew and our investigators.
'Let the sentences handed down today serve as a warning to those who attempt to smuggle illegal drugs and other contrabands if you are involved in drug smuggling you will be caught and face a lengthy time in jail.'
Anyone with information about smuggling can call the Customs Hotline on 0800 59 5000 or report it online
Published 22 June 2012