Press release
Dropped wardrobe among festive motorway incidents
A wardrobe dropped on the M62 was among the wide range of incidents that traffic officers responded to over the festive season to help keep England's motorways moving.
This news article was withdrawn on
This document is no longer current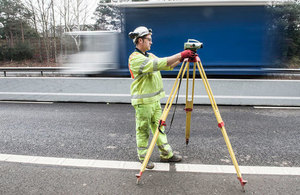 Statistics released by Highways England show that its officers dealt with 4,281 incidents between Christmas Eve and New Year's Day to provide help to drivers – an average of 1 every 3 minutes.
Incidents attended by traffic officers included a wardrobe falling from a car on the M62 near Leeds on Christmas Eve, a large pothole caused by flooding on the M62 near Rochdale on Boxing Day, and a lorry fire on the M1 near Newport Pagnell on New Year's Eve.
Around 2 in every 5 incidents (1,721) were caused by vehicles breaking down and just over 1 in 10 (604) were caused by collisions. There were also 78 abandoned vehicles, 55 flooding issues and 21 fires.
Christmas Day was the quietest day with 278 incidents, followed by 392 on New Year's Day. Wednesday 30 December was the busiest with 591 incidents, followed by 562 on Christmas Eve and 527 on Bank Holiday Monday.
The South East was the busiest region with 1,094 incidents compared to 324 in the East Midlands, making it the quietest region over the 9 days.
Melanie Clarke, Director of Customer Operations at Highways England, said:
Our traffic officers do a fantastic job of keeping the motorways moving 24 hours a day and Christmas was no exception. We dealt with nearly 300 incidents on Christmas Day itself and an average of 1 incident every 3 minutes during the 9 days between Christmas Eve and New Year's Day.

Around 40 percent of the incidents we dealt with were caused by vehicles breaking down so it shows how important it is that people make sure their vehicles are in a good condition and have enough fuel before setting off.

We'd also encourage drivers to check their journeys before heading out to find out about any ongoing incidents and plan an alternative route if they need to.
Highways England's traffic officers manage incidents by working with the emergency services, managing traffic to reduce congestion, clearing debris from the carriageways, and re-opening routes as soon as it is safe to do so.
Under the Traffic Management Act 2004, traffic officers have the power to stop and direct traffic, close lanes and carriageways and manage traffic. Failure to obey directions from a traffic officer is an offence and carries a fine of up to £1,000 along with a possible driving licence endorsement or disqualification.
To check real-time traffic information before setting off, drivers can visit our website or download the Highways England app. Live traffic information is also available on Highways England's Twitter feeds which is listed on our website.
Advice on driving in wintery conditions is available on the Met Office website.
General enquiries
Members of the public should contact the Highways England customer contact centre on 0300 123 5000.
Media enquiries
Journalists should contact the Highways England press office on 0844 693 1448 and use the menu to speak to the most appropriate press officer.
Published 8 January 2016