Press release
Drop in to learn about next phase of work on Whittlesey Washes flood reservoir
With the next phase of a project to strengthen the bank of Whittlesey Washes starting this month, people who live and work nearby are being invited to a drop-in session to learn more.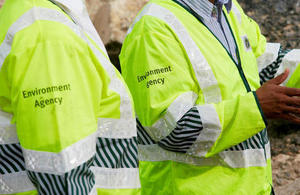 Maps, plans, drawings and pictures will be on display from 11am to 7.30pm on Wednesday, 11 March at the Scout headquarters, Thistle Drive, off Wessex Close in Stanground, Peterborough. Members of the project team will be available to answer questions.
Whittlesey Washes, also known as the Nene Washes, stores water from the River Nene when it is 'tide-locked'. This happens when heavy rainfall increases river flows and coincides with high tides, meaning the extra water cannot be released through the Dog in a Doublet sluice. As the tide recedes, water is released from the reservoir and into the tidal River Nene through the Ring's End sluice.
The 3 year, £26m Environment Agency-led scheme will strengthen a 16km stretch of the South Barrier Bank.
The third phase of the works – between Stanground and Whittlesey – will start on 9 March.
Guy Szomi, Environment Agency catchment engineer, said:
This vital work will improve the condition of the South Barrier Bank so it can continue to protect hundreds of homes, roads, and railways in and around Peterborough, as well as 8,000 hectares of farmland to the southeast of the city.

Anyone who has questions or is just interested in learning more is welcome to attend our drop-in session and meet the project team – we're happy to help.
Phase 3 will strengthen the 3-kilometre stretch of bank between Stanground and Ball Bridge in Whittlesey. A low, 249-metre concrete wall will be built between Stanground Sluice and the car park.
While the work is underway, a signed diversion will be in place for a section of the Green Wheel cycle path (route 21) until 30 November. Construction works are set to be complete by the end of the year.
Bank work will also continue between Poplar House Farm and Bassenhally.
For regular updates on the project, sign up to receive our newsletter by emailing whittleseywashesprojectEA@gmail.com.
For more information on flood warnings and to find out how to reduce the impact of flooding on yourself, your family and your property, their families and properties, visit the Environment Agency website at http://www.gov.uk/environment-agency or call 0345 988 1188.
Published 4 March 2015