Press release
Drivers warned about weekend A174 Parkway closures
Drivers are advised that there will be day time lane closures and overnight full closures of the A174 / A19 junction in Middlesbrough this weekend, as part of work to complete the ongoing pinch point scheme.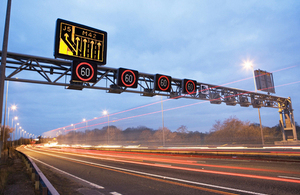 Work to remove sections of old concrete road will commence on Friday evening and will take place throughout the weekend until Monday morning.
The closures will allow a new road to by laid which will also widen the carriageway around the roundabout.
Highways Agency project manager, Steve Bishop said:
Due to space restrictions, the work cannot be carried out safely during the day without closing a lane on the roundabout. By working through the weekend we will be able to complete the work quicker. We have put up signs around the roundabout warning of the closures and we ask that drivers leave extra time for journeys in the area this weekend.
There will be one lane open round the roundabout during Saturday and Sunday between 6am and 8pm. Overnight on Friday, Saturday and Sunday, between 8pm and 6am, the roundabout will be fully closed and there will also be closures on the Parkway extension west of the A174/A19 junction.
The closures have been planned to take place at the weekend when traffic flows are lower in order to keep disruption to drivers to a minimum. The restrictions will be lifted as soon as it is safe to do so.
Further details about the pinch point scheme can be found on the Highways Agency website at: http://www.highways.gov.uk/roads/road-projects/a19a174-parkway-junction-improvement-middlesbrough/
General enquiries
Members of the public should contact the Highways Agency Information Line on 0300 123 5000.
Media enquiries
Journalists should contact the Highways Agency press office on 0844 693 1448 and use the menu to speak to the most appropriate press officer.
Published 5 March 2015