Press release
Drivers advised of closures next week on the A453/ Farnborough Road Junction in Clifton
Work is to continue to complete the £150 million A453 widening scheme through Clifton in Nottinghamshire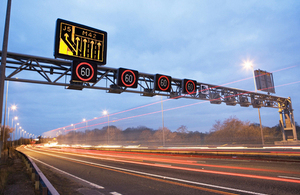 There will be two areas of work that are taking place next week around the A453 junction with Farnborough Road.
Between Farnborough Road Junction and Silverdale Roundabout there will will deep drainage works undertaken across each of the dual carriageway sections, which will require full road closures on the following nights:
Monday 23 February: A453 Eastbound (heading into Nottingham) will be closed
Tuesday 24 February: Either A453 Eastbound or A453 Westbound will be closed. However, both sides will not be closed at the same time. (This closure is planned as a weather contingency measure for works on Monday night)
Wednesday 25 February: A453 Westbound (heading away from Nottingham) will be closed
Rob Edwards, Highways Agency Project Manager said:
To minimise the impact on road users these works will not commence until 11.30pm each night and the road will fully re-open by 5.30am at the latest.

As always we've planned the work very carefully to create as little disruption as possible
During these closures Farnborough Road, the A453 to the west (Clifton) side of the junction and Fabis Drive will remain open and accessible from the junction.
The installation of traffic signals at Farnborough Road Junction will take place during the night of Friday, 27 February. This will commence at 9pm and be completed by 6am the next day. During this time the A453, Farnborough Road and Fabis Drive will remain open, but drivers are asked to remain vigilant through the roadworks.
For more information about this scheme and details of traffic management throughout the project please go to the dedicated project pages.
General enquiries
Members of the public should contact the Highways Agency Information Line on 0300 123 5000.
Media enquiries
Journalists should contact the Highways Agency press office on 0844 693 1448 and use the menu to speak to the most appropriate press officer.
Published 25 February 2015