Press release
Drivers advised of A1 overnight weekend closures for motorway upgrade work, North Yorkshire
The A1 in North Yorkshire will be closed overnight on 27 September in both directions as part of major work to upgrade part of the A1 to a three-lane motorway.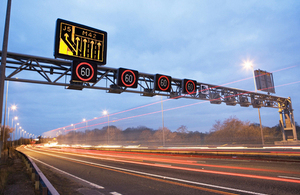 Highways Agency senior project manager Martin Neal said:
This closure is required for safe installation of traffic management to enable the safe construction of the new motorway. During the closure we ask that drivers plan their journeys. Diversion routes will be clearly signed and drivers should allow extra time for travelling along the diversion routes.
The A1 and A1(M) will be closed northbound between junction 50 (Baldersby) and Scotch Corner, and southbound between Scotch Corner and junction 51 (Leeming), on 27 September, from 8pm on Saturday evening until 6am on Sunday morning in both directions. Please note a contingency closure is planned for 4 October (8pm-6am), but depending on progress of the work, this may not be needed. The closures have been carefully planned to minimise disruption to drivers and will be put in place when traffic flows are at their lowest.
Work to widen a 12 mile section of the A1 between Leeming and Scotch Corner, and to create an alternative route for local traffic, started in March. The scheme will unlock growth and boost the economy by creating a continuous motorway-standard route between London and Newcastle (including the M1 and A1M).
When the scheme opens to traffic in 2016/17, journey times between Leeming and Barton will be reduced by approximately 20 per cent, and over a sixty-year period, the improvements are predicted to save around 100 lives and prevent around 650 serious casualties. The work is also estimated to generate 750 jobs in the construction industry over three years.
The work is part of a £380 million scheme to upgrade 12 miles of the A1 between Leeming and Barton to motorway standard. Following the decision on the route of the proposed local access road, work on the remaining section, between Scotch Corner and Barton, will start in due course. For more information on the scheme, visit the Highways Agency's website
General enquiries
Members of the public should contact the Highways Agency Information Line on 0300 123 5000.
Media enquiries
Journalists should contact the Highways Agency press office on 0844 693 1448 and use the menu to speak to the most appropriate press officer.
Published 25 September 2014