Press release
Drivers advised of A1 overnight closures along Gateshead Western Bypass
The A1 in Gateshead will be closed overnight as part of work to upgrade and maintain the road between the Coal House and Gateshead Quays junctions.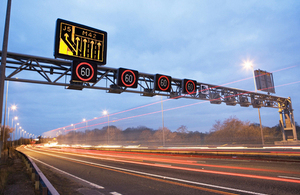 Highways Agency project manager Lynne Biddles said:
During these overnight closures we will be carrying out carriageway assessments, clearing vegetation and removing the overhead gantries between Lobley Hill and the A184 Gateshead Quay junction. Maintenance work will also take place; high friction surfacing will be laid and Motorway Incident Detection and Automated Signalling (MIDAS) loops will be installed in the carriageway surface. These loops detect traffic flow and will be connected to the traffic signals being installed at Coal House roundabout. Diversion routes will be clearly signed and drivers should allow extra time when travelling in the area.
Full road closures will take place on the following days:
Saturday 8 and Sunday 9 November – from 8pm to 6am in both directions from Coal House junction (Junction 67) to Lobley Hill junction (Junction 68.)
Saturday 15 and Sunday 16 November – from 8pm to 6am in both directions from Lobley Hill Junction (Junction 68) to A184 Gateshead Quays Junction (Junction 69.)
Tuesday 18 and Wednesday 19 November – from 10pm to 6am southbound only between Lobley Hill junction (Junction 68) and Coal House Junction (Junction 67.)
In order to minimise any disruption to drivers the closures will take place outside of peak traffic times. Traffic counts will take place before the closures are implemented to ensure traffic volumes are suitable.
Although there will be no overnight closures between the A184 Gateshead Quays Junction (J69) and the Metro Centre junction (J71) there will still be permanent traffic management in each direction on this stretch of the road.
The major £61million upgrade of the A1 between Coal House and the Metro Centre began this summer and will widen 3.98 miles of the A1 to three lanes in both directions. The scheme will improve journey time reliability, increase capacity, reduce the number and severity of accidents, and support local regeneration and development plans in the Newcastle and Gateshead area.
Further information about the scheme can be found on the Agency's website.
General enquiries
Members of the public should contact the Highways Agency Information Line on 0300 123 5000.
Media enquiries
Journalists should contact the Highways Agency press office on 0844 693 1448 and use the menu to speak to the most appropriate press officer.
Published 5 November 2014