News story
Driverless cars: a green light for road tests
The first UK tests of driverless cars on public roads are now a step closer.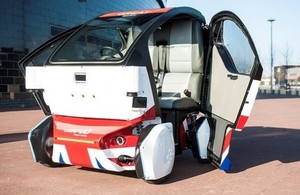 The Department of Transport regulatory review Driverless cars in the UK has cleared the way for testing this summer.
Trials will be held in:
Greenwich, South East London
Milton Keynes and Coventry (working together as one project)
Bristol
The review was launched at the first official trials of the fully autonomous Meridian shuttle in Greenwich this week.
Its aim is to establish the UK as the global hub for the research, development and integration of driverless vehicles and associated technologies.
A prototype of the driverless pod that will be tested in Milton Keynes was also unveiled by the Transport Systems Catapult.
Read more about the successful innovations supported by Innovate UK's Catapult programme
Published 12 February 2015