Press release
Driver CPC: don't miss the bus
Many professional bus and coach drivers have less than 1 year to complete their Driver Certificate of Professional Competence (CPC).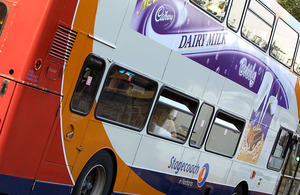 10 September 2012 marks 4 years since the introduction of the Driver CPC for bus and coach drivers, and 3 years since its introduction for lorry drivers.
Under Driver CPC, professional bus, coach and lorry drivers have to complete 35 hours of accredited training every 5 years.
Drivers who got their vocational licence before the introduction of Driver CPC have 5 years from its introduction to do the required 35 hours. This means the deadline for bus and coach drivers is September 2013, and for lorry drivers it is September 2014.
Since Driver CPC was introduced over half a million professional drivers across the goods and passenger sectors have undertaken accredited periodic training, further developing their knowledge and skills and helping to ensure they remain safe and responsible drivers throughout their careers.
The Driving Standards Agency's Chief Executive, Rosemary Thew, said:
I would urge all drivers who haven't yet started periodic training not to leave it until the last minute. If the deadline arrives and you drive professionally without a Driver CPC, you'll be committing an offence.

If you're an operator and you cause or allow your drivers to drive without Driver CPC – you'll also be committing an offence.

The idea of drivers completing regular training throughout their working life is not new – many have been doing it for years through operators who recognise the benefits of drivers developing their skills; helping to boost productivity as well as improve road safety.
Over 3,000 training courses
There are now over 3,000 approved training courses available to drivers, covering a whole range of topics from fuel efficiency to tachograph and drivers' hours regulations or defensive driving.
All courses and providers have to meet strict criteria and are subject to ongoing quality assurance to ensure they meet the required standard.
Published 10 September 2012