Press release
Drainage work begins on Todmorden's Centre Vale Park
Project will take about 12 weeks to complete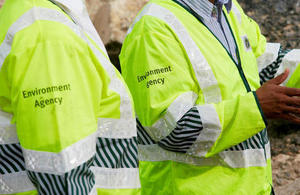 Work to rectify persistent drainage problems in Todmorden's Centre Vale Park will begin next week (22 September).
The park has a long history of poor drainage which, from time to time, leaves some parts of it unusable.
It had been hoped that the problems would be cured when new drainage was installed in 2007 as part of an Environment Agency scheme to create a flood storage area in the park to help protect the town centre from flooding from the River Calder.
However, the problems have continued and the Environment Agency and Calderdale Council, which owns the park, have secured funds to enable the rectification work to go ahead.
The main problem is that some of the slit drains which connect the surface of the park to the drainage layers underneath have become blocked.
Slit drains are vertical columns and sand and gravel which allow water to drain towards an underground pipe network.
Investigations have shown that water cannot drain away because, over time, the upper sand layers of the drains have become displaced by surrounding soil which has high clay content and, therefore, acts as a barrier to the dispersal of water.
The rectification work will cost £150,000 and will take about 12 weeks to complete, subject to good weather. The start of work was delayed by the Environment Agency to allow the annual Todmorden Agricultural Show and the Tour de France to take place without any disruption.
Environment Agency project manager Darren Gallagher said:
Our investigations over the past few months have showed that most of the park's drainage system is in good condition.

We are confident that the work we will be undertaking to clear the blockages, in conjunction with regular maintenance by Calderdale Council, will cure the problems in Centre Vale Park.
Mr Gallagher added that the contractors would try to ensure that any disruption caused by site work and by vehicle movements to and from the park would be kept to a minimum.
Calderdale Council's Safer, Cleaner, Greener Manager, Amanda Firth, said:
We have been working with the Environment Agency to find a solution to the drainage problems in Centre Vale Park, and we are delighted that rectification work is about to start.

We're keen to make sure people can fully enjoy the great facilities in the park – now and for years to come.
The work will be carried out between 8am and 5.30pm on weekdays. There will be no weekend working.
Published 15 September 2014