Press release
Draft regulations published for consultation: variable mandatory speed limits for M4 between junctions 3 and 12
Draft regulations to introduce variable mandatory speed limits as part of the planned upgrade to the M4 in Berkshire and west London were published yesterday (12 January 2015) for consultation with key stakeholders.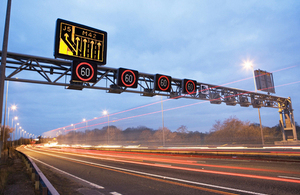 As part of improvements planned for the M4 between junctions 3 (Hayes) and 12 (Theale), variable mandatory speed limits will be used to manage traffic speeds and help reduce congestion, while enabling safe operation of the motorway.
Introducing the variable mandatory speed limits on the motorway requires new regulations. These new draft regulations have been published for comment, and key stakeholders, such as local authorities, transport associations and emergency services have been contacted directly.
The consultation document is also available online should any other interested parties or individuals want to comment. The consultation closes on Sunday 22 February 2015.
The consultation is limited to the introduction of variable mandatory speed limits: other aspects of the proposed improvements were the subject of a wide ranging consultation that closed on 21 December. The response to this consultation is expected to be published in the spring.
Construction of the smart motorway scheme is expected to start in 2016, subject to the completion of statutory processes. Anyone wanting to know more about the improvements should visit the project's website or call the Highways Agency's information line on 0300 123 5000.
General enquiries
Members of the public should contact the Highways Agency Information Line on 0300 123 5000.
Media enquiries
Journalists should contact the Highways Agency press office on 0844 693 1448 and use the menu to speak to the most appropriate press officer.
Published 13 January 2015