Draft authorisation issued for waste disposal
Dounreay's plan to clear the redundant nuclear site of radioactive waste from its clean-up and demolition moved a step forward today.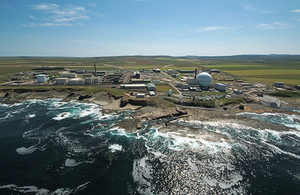 The Scottish Environment Protection Agency published a draft authorisation that would govern the disposal of low-level radioactive waste in a series of vaults now under construction adjacent to the site.
The draft authorisation is the subject of public consultation until August 29.
Cleaning out and knocking down the fast reactor experiment at Dounreay will generate up to 240,000 tonnes of solid low-level radioactive waste which needs to be managed in a way that does not pose a hazard to future generations.
Following extensive consultation, the site identified its preferred option – underground disposal in a series of shallow engineered vaults adjacent to the site and backfilled with grout.
This is consistent with national strategy for the management of low-level radioactive waste.
Under the Radioactive Substances Act, the disposal of radioactive waste to such a facility must be authorised by SEPA.
Today's draft authorisation sets out the conditions SEPA propose to apply to the disposal of waste in response to an application from Dounreay Site Restoration Ltd.
Low-level waste typically consists of debris such as metal, plastics and rags that have been contaminated during the clean-out and demolition of facilities where radioactive materials were handled.
By volume, low level waste represents more than 80 per cent of all the radioactive waste generated by Dounreay's demolition. By radiological hazard, it represents less than 0.01 per cent.
It is currently stored on the site, with the first disposals scheduled to begin in 2014.
Application by Dounreay Site Restoration Ltd to dispose of low level radioactive waste at a proposed site adjacent to the Dounreay Nuclear Licensed Site – SEPA consultation
Published 6 July 2012