Dr Murrison makes First World War commemoration visits
The Prime Minister's Special Representative for Centenary Commemorations and NIO Minister, Dr Andrew Murrison, will today undertake several engagements in Belfast and Co Down to learn more about the contribution of people from these areas during the First World War.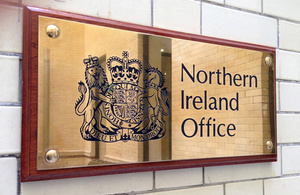 His first visit will be to preview the 6th Connaught Rangers Exhibition at Belfast City Hall, which will be officially launched on 19th November and will run until 12thDecember. This exhibition details the stories of West Belfast men who joined and fought with the 6th Connaught Rangers during the First World War. Speaking after the visit, Dr Murrison commented:
The 6th Connaught Rangers Research Group has done excellent work to showcase the service of volunteers from nationalist areas of West Belfast in the First World War. So many of these stories have not been fully recognised until now because of the way in which Irish politics evolved in the aftermath of the war. This exhibition is an important step forward and I welcome the fact that these men can now be remembered for their bravery and sacrifice.
The Minister will also take part in a First World War commemorative Last Post event at Portaferry. The Last Post project is a UK-wide research and musical initiative delivered by not-for-profit arts organisation Superact. This community based event saw local groups coming together to remember those from both the unionist and nationalist communities in the Portaferry and Strangford area who had enlisted for service. As a former Royal Naval Officer, Dr Murrison is particularly interested in maritime links with Portaferry where many local men had joined the Naval Service during First World War.
Later in the afternoon, Dr Murrison will visit the highly acclaimed Somme Heritage Centre in Newtownards to see at first hand this top class educational facility which provides an invaluable resource on the history of local involvement in the Great War.
Published 18 November 2014