Dr Fox - we must continue to battle Al-Qaeda
Defence Secretary Dr Liam Fox has spoken to the media about the death of Al-Qaeda leader Osama bin Laden who was killed in a US operation in Pakistan on Sunday.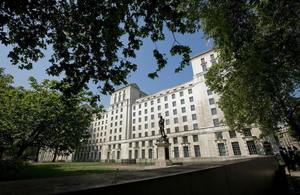 In an official statement Dr Fox said:
Osama bin Laden was responsible for the murder of dozens of British citizens around the world, including 66 Britons in his attack on 9/11. His global terror spree led to the deaths of thousands of innocent civilians from many nationalities and every major religion.
The news of his death is an important milestone in the struggle against global terrorism. But we must continue to battle against the ideology and the organisation of Al-Qaeda.
In view of the possibility of violent attacks from Al-Qaeda or its sympathisers I have directed my Department to maintain a high level of vigilance in all UK defence facilities at home and abroad.
Asked by the media whether UK forces and British citizens are in more danger because of this, Dr Fox said that while bin Laden's death is hugely significant, in terms of its operational significance it is perhaps less so than it might have been in the past. He continued:
We face terror threats from not only Al-Qaeda but affiliates of Al-Qaeda who share their ideology on a fairly regular basis, so there's no evidence that the risk will be increased because of today's events, but I'm sure that we will continue to be vigilant.
It certainly appears that bin Laden himself was less involved in orchestrating Al-Qaeda operations in very recent years. But this is an organisation that is not one man deep, and there will be others who will be willing and able, I imagine, to take over control of their operations and the impact they can bring to bear in different parts of the world.
Asked if it alters things in Afghanistan, Dr Fox said:
In Afghanistan we are fighting a counter-insurgency to try to create a more stable Afghanistan that works within the constitution of that country and with a democratic government, and the reason that we're trying to do that is to deny territory to groups like Al-Qaeda or their affiliates who would use an ungoverned space as the basis for developing and potentially launching operations against the free world in the way that they did prior to the attacks of 9/11.
Asked if it makes it easier now that bin Laden is gone for us to do a deal with the Taliban to somehow work our way out of the situation rather than continuing a struggle which is costing so much, Dr Fox said:
It's an interesting piece of conjecture as to whether this will have an effect on those on the ground. President Karzai in Afghanistan of course today has already said that he hopes that that will have an effect on the Taliban, that they will recognise that they cannot defeat the global coalition against terror.
I suppose we'll have to wait to see how that plays out. But the resolve of the international community is there.
Published 3 May 2011