Dr Fox - tackling mental health issues is a priority
Defence Secretary Dr Liam Fox has written an article for The Sun newspaper in which he stresses that tackling mental health problems for troops is a high priority. Here follows the article.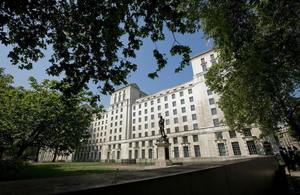 I am delighted at The Sun's campaign on the mental health problems facing our troops, which long reflects my own long-standing concerns. It is an issue that is all too often not understood.
In the course of their service to the country the men and women of our Armed Forces go willingly into situations that test them to the limits. They see things and experience things that most of us will never have to face and find it difficult to even imagine.
It is easy to recognise those who suffer physical injuries but it should be no surprise that some will have mental scars too.
Of course good training, understanding leadership, the support of family and the comradeship of those who have been through the same thing can help. But psychological difficulties can be hard to diagnose, sometimes taking years to surface, often after people have left the forces.
There is, sadly, still a stigma attached to mental health and that can get in the way. I know, as a former GP, that people don't always admit they have a problem, even to themselves, let alone others. They suffer in silence rather than seek help. This can lead to all sorts of difficulties - not least addiction or family breakdown.
It is our duty as a Government, and as a nation as a whole, to help any who are suffering in this way - particularly when these problems have been caused by their service to the country. They fought for us, we should look after them.
That is why I have made tackling mental health issues such a high priority.
The independent study we commissioned by former Naval Surgeon Dr Andrew Murrison has recommended many improvements to services for both current personnel and veterans. We are now working to implement them to provide much better and much wider mental health support.
But problems are not always identified immediately and the only way to make sure no-one who needs help slips through the net is for the MOD to work in tandem with the NHS and charities, many of whom receive direct grants from Government.
Last year, for instance, we paid Combat Stress more than £3m to support their work and we will soon be announcing additional funding for mental healthcare.
Where our personnel do suffer mental health illness they must receive proper compensation and I am pleased that changes will be put into law next month to increase payments under AFCS [Armed Forces Compensation Scheme].
Specifically, the changes will nearly treble the maximum compensation payment for those suffering the severest mental health problems, and increase the amounts that they are paid for life on leaving the Armed Forces.
Further work is underway by independent medical experts to ensure that as we move forward compensation levels are fair and set at the right level.
We owe it to the brave men and women of our Armed Forces to do all we can to make sure they are fit for life - both physically and mentally. Even in the difficult financial position we find ourselves, that is what this Government is doing.
Published 27 January 2011