Press release
Dr Fox business boost for international trade visits
Opportunity for UK businesses to influence issues raised during overseas ministerial visits.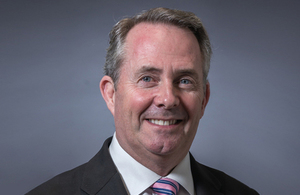 International Trade Secretary, Dr Liam Fox, is responding to requests from UK businesses and putting them at the heart of trade policy, by getting their input into international trade visits ahead of time.
From today (Tuesday 23 January, 2018) the Department for International Trade (DIT) is taking an innovative new approach by publishing a list of the countries Dr Fox and his ministers will be visiting up to April 2018. Businesses will have the opportunity to have their say on 'in market' issues.
Over the next few months DIT ministers will be visiting a diverse range of countries - both in and outside the EU - including India, Bulgaria, Spain, Belgium, Hong Kong, the United States and the Netherlands - to boost the UK's trade and investment relationships.
ONS statistics show exports of UK goods and services have increased by 12.9% to £619 billion over the year to November 2017, compared to the same period a year earlier. Goods exports increased by 14.7% and services exports by 10.8%. Over the same period total imports of goods and services increased at a slower rate – 10.3% – narrowing the trade deficit by £8.6 billion.
However, DIT estimates that there are around 300,000 businesses in Britain that could be exporting - yet currently have no overseas sales.
International Trade Secretary, Dr Liam Fox, said:
The big increase in exports shows UK companies are succeeding on the world stage and consumers want the high quality goods and services that we have to offer.

With the IMF estimating 90% of global growth is likely to come from outside the EU, there is huge scope for more British companies, particularly smaller businesses, to target overseas markets.

As we set out our plans for our own independent trade policy for the first time in 40 years, businesses are at the heart of this and will have their say at every stage of the process.
DIT is currently working on a new 'Export Strategy' to develop a new culture of exporting in the UK as figures show that only around 9% of firms exported in 2016, but there is the potential for many more to do so. The Export Strategy review will take evidence from businesses to consider how to increase exporting activity and unlock international opportunities. It will report in spring 2018.
Last month Dr Fox's department also launched a new 'GREAT Export Readiness toolkit' which is set to help those businesses thinking of selling their products on a global scale. The toolkit provides a step-by-step guide for exporting, from advice on the best markets, to help with creating an export plan for investors and advice on the best ways of selling overseas including online or through in-country agents.
Top 5 ways DIT supports businesses to export:
great.gov.uk - export platform which lists thousands of export opportunities worth millions of pounds. It also puts firms in touch with global buyers at the click of a mouse.

UK Export Finance - the UK's export credit agency provides financial support like capital loans, to ensure no viable export deal fails due to lack of finance and insurance. UKEF has recently partnered with 5 of the UK's biggest banks, to help small businesses easily access government-backed financial support.

Face-to-face support for exporters in England - delivered via a network of around 250 international trade advisers (ITAs). ITAs are managed by 9 delivery partners who operate in each of the 9 English regions.

Trade shows – DIT supports trade shows across the world to showcase the best of UK companies from sectors including life sciences, automotive and food and drink.

Board of Trade – with representatives from the business community to be the 'eyes and ears' of modern businesses. It meets 4 times a year rotated around the UK guaranteeing all parts of the union have a chance to raise the issues most important to them.
Contact DIT
Contact DIT's visits team to suggest how ministers can support your trade deals during ministerial visits.
Further information
great.gov.uk is a digital platform designed to help UK businesses establish, export and secure their place on the global trading stage. The platform gives access to a suite of digital tools that have been designed to help UK businesses connect with prospective overseas partners and buyers.

Businesses can see upcoming DIT international ministerial visits. This includes a list of all relevant ministerial events and visits and a contact email address for business to get in touch with DIT.
Published 23 January 2018