Dr Fox: achieving value for money in Defence
Defence Secretary Dr Liam Fox has delivered a speech about 'Value for Money at the MOD' today in which he set out how the Department must fundamentally change the way it does business.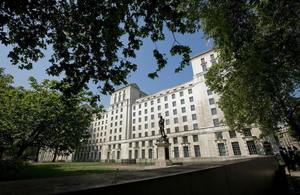 In the speech, delivered at the Institute for the Study of Civil Society (CIVITAS), Dr Fox said the MOD needs to develop mechanisms to ensure value for money is achieved in the Department.
He set out the following as crucial to bringing about the necessary changes:
ending the so called 'conspiracy of optimism' in the Department's future defence programme planning, through which risks and costs in new projects are underestimated

future programmes should not be included unless there is a clear budgetary line for development, procurement and deployment

Permanent Secretary Ursula Brennan and the Chief of Defence Materiel, Bernard Gray, have been asked to examine the future programmes we currently have to ensure risks and costs are well understood and that they remain affordable

real-time cost control of project budgets should be improved by giving project managers the right resources and authority to deliver, retaining them in post long enough to deliver

a Major Projects Review Board will be set up and chaired by the Defence Secretary that will receive quarterly updates on the MOD's major programmes to ensure that they are on time and within budget. This will begin with the 20 biggest projects by value and will expand to the 50 biggest projects

rebalancing our relationship with industry so that we achieve maximum value for money, remembering that the primary purpose of the procurement process is to give our Armed Forces what they need when they need it, at a reasonable cost to the taxpayer

establishment of the new Defence Exports Support Group to ensure that the MOD, alongside UKTI (UK Trade & Investment), is focusing its efforts in support of defence exports

following the Strategic Defence and Security Review (SDSR) a period of intense negotiation with industry has been entered into with a number of major industrial suppliers. This is already looking at 130 contracts relating to SDSR decisions to ensure they are both necessary and give greater value for money to the taxpayer. This number will soon be expanded to around 500 contracts.
Published 22 February 2011