World news story
Dr Benedict Leonard delivers speech about the criminal justice system in England and Wales
Dr Leonard, the Criminal Justice Adviser at the British Embassy in Lima spoke about the key differences between English / Welsh and Peruvian criminal trial procedures to highlight areas in which the UK might be able to assist Peru with its reform of its criminal procedural code.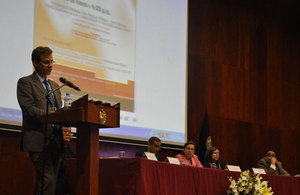 Last Thursday 15 January, the Peruvian Judicial Council held at its headquarters the "2014 International Academic Conference" in the context of the third Anniversary of the New Code of Criminal Procedure. The Council invited the Criminal Justice Adviser at the British Embassy in Lima, Dr Benedict Leonard, to speak about the structure of the criminal justice system in the United Kingdom.
The conference was aimed at pointing out significant differences, but also the many points in common between English and Welsh processes and the new Peruvian law in order to assist with the effective implementation of the new Peruvian Criminal Procedural Code. To that end, Dr Leonard put special emphasis on the oral process and adversarial aspect introduced by the new Peruvian Code.
While it is true that the new Peruvian systems shares many similarities with the English and Welsh processes, various authorities' functions do vary, such as for example that of the prosecutor. "Historically, English and Welsh law entrusts criminal investigations to the police rather than the prosecutor. It is believed that the police are better suited to doing so and have the necessary expertise. The prosecutor's responsibility is to consider the evidence and conduct a prosecution where they disclose an offence and where there the public interest requires it" he said. "In Peru, in comparison, it is the prosecutor who leads the investigation rather than the police."
The conference concluded with a panel debate involving local judiciary and academics authorities, considering the usefulness of English and Welsh practices to the Peruvian authorities. "I hope we can provide the relevant authorities with the right tools to effect practical changes useful under the New Criminal Procedural Code to assist it in leading to better and more efficient criminal trial processes," Dr Leonard concluded.
Published 23 January 2014