Dounreays heritage to showcase in London museum
Dounreays Fast Reactor control room will be displayed in London museum.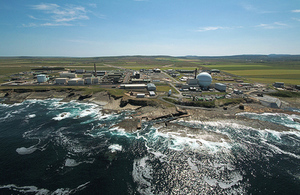 Dounreay's Fast Reactor is an iconic symbol along the Caithness coastline and now its antiquated control room will be preserved for future generations in the care of two internationally renowned museum collections.
As part of a rare joint acquisition, DFR's control room is being donated to both National Museums Scotland and the Science Museum in London.
The DFR control room is designated as being of national significance by Historic Scotland and National Museums Scotland and is to be preserved for future display in public museums. The display will reference Caithness and the story of Dounreay's industrial heritage. The removal took place over several weeks and was completed in February 2014.
DFR went critical in November 1959 and operated until its shutdown in March 1977. The experimental fast breeder reactor at Dounreay led British research and development of nuclear energy during the 1950s and 60s.
Housed inside a steel sphere, it was built between 1955 and 1958 to test the concept, and became the first fast reactor in the world to provide electricity to a national grid in 1962.
The operators controlled the reactor systems from a room adjacent to the sphere, known as the DFR control room. It contained an operator's desk and fourteen panels along three sides of the room.
The wall panels were dismantled and packed into two full height ISO containers. The control desk was cut into three sections in order to get it out of the building and placed inside a separate ISO container.
James Gunn, DSRL's heritage officer, said:
The Science Museum and National Museums Scotland receive over 5.6 million visitors every year and the sharing of our unique industrial heritage with museums world renowned for their historic collections and exhibitions is a fantastic opportunity for Dounreay.
Dounreay has also recently transferred the Dounreay Materials Testing Reactor control room to local museum and five star visitor attraction Caithness Horizons, where it forms part of a new Dounreay exhibition which was unveiled at an official ceremony by Dounreay's 'Atomic Queen' Margaret Macdonald, who was crowned in 1955 at a dance in Reay.
In an interesting additional historical connection, the memorandum of understanding which outlined the agreement for the donation was signed for National Museums Scotland by now retired Director of Collections, Jane Carmichael. Jane is the daughter of Donald Carmichael who was Dounreay's first permanent employee and the United Kingdom Atomic Energy Authority's works secretary for Dounreay
Published 31 July 2015