News story
Dounreay wins safety and environmental awards for second time
DSRL has been awarded the British Safety Council's Sword of Honour and Globe of Honour for the second time.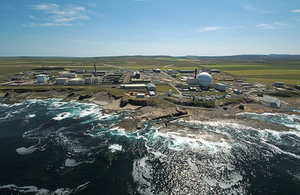 These important awards are designed to recognise and celebrate health and safety and environmental management excellence.
DSRL's Assurance Director, Alan Scullion, said:
These awards from BSC confirm that Dounreay Site Restoration Ltd remains committed to the pursuit of excellence in health, safety and environmental issues.
Achieving independent recognition in the form of such important awards helps to promote and reinforce our goal to achieve a safer place to work.
This award belongs to the Dounreay workforce and provides external recognition of their commitment to keep themselves, their colleagues and the environment safe from harm.
Dounreay is Britain's biggest nuclear site closure project. Decommissioning the site is recognised internationally as one of the most complex nuclear clean-up challenges in the world.
Published 15 October 2012