News story
Dounreay wins international safety award
Nuclear decommissioning company Dounreay Site Restoration Ltd (DSRL) has won a prestigious international safety award with merit from one of the world's leading health and safety organisations.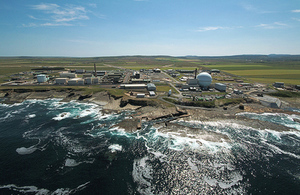 The British Safety Council's International Safety Award was awarded following a rigorous assessment of the company's health and safety policies and procedures by an independent adjudication panel.
Dounreay's Internal Regulations Manager Graeme Dunnett and Reactors Facility Manager Stevie Cowie collected the award on behalf of the company on April 26.
Assurance Director Alan Scullion commented: "Dounreay is delighted to have received this accolade.
"To win, we have to demonstrate that we have in place comprehensive management systems, and a clear and continuing commitment to health and safety throughout the company.
"DSRL has shown that its commitment to health and safety is from the board room to the shop floor, and that we constantly strive to improve our safety culture year on year."
"By achieving an International Safety Award, there is external recognition that DSRL is making its vision of a healthy and safe working environment a reality."
DSRL is decommissioning the redundant Dounreay nuclear research site on behalf of the Nuclear Decommissioning Authority.
Published 1 May 2013