News story
Dounreay welcomes suppliers for day of collaboration
More than 200 people packed into a Thurso hotel this week as Dounreay and supply chain partners shared plans and ideas about the decommissioning of the site.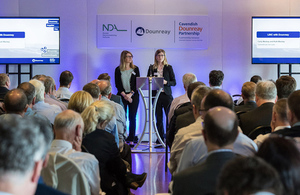 Leading nuclear firms mixed with numerous small and medium sized enterprises for the event which was attended by those who either support the site through existing framework contracts or have registered for the innovative 'LINC with Dounreay' scheme. LINC, launched last year, encourages small businesses to work together to pioneer solutions for decommissioning challenges.
Dounreay's Head of Commercial Services Stephen Adamson said: "The supply chain has been working at Dounreay since the very first day of construction 6 decades ago. They have played an important role since then and we believe they can help us even more as we prepare to meet the challenges we expect in the next phase of the clean-up programme.
"Dounreay has a talented workforce which has unparalleled knowledge of the site. We are looking for the supply chain to supplement that, bringing experience and ideas from elsewhere, to work alongside us and ensure we have a world-leading team to decommission what is recognised as Europe's most complex nuclear closure contract."
Companies attending listened to presentations covering upcoming work in each of the site's main areas, including reactor clean-up and waste management. The room was then transformed for the afternoon with companies exhibiting and showcasing the work they have delivered elsewhere.
The event culminated with the launch of the company's third LINC with Dounreay project. Registered companies have 4 weeks to respond to the challenge and come up with a solution to help with the way sampling of floor slabs is undertaken. Full details can be found on the LINC with Dounreay page.
Details of upcoming opportunities for the supply chain can be found in Dounreay's latest procurement plan which is updated regularly.
See photographs from the event on Dounreay's Flickr page.
Published 25 May 2018