News story
Dounreay strengthens enterprise team
Dounreay's June Love is being seconded to Highlands and Islands Enterprise to support its efforts to regenerate the economy of the area.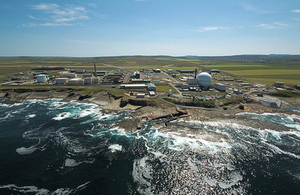 The government-sponsored agency is leading efforts to help the north Highlands adjust to closure of the site and seize the opportunities presented by the release of highly-skilled staff from the decommissioning programme.
Roger Hardy, managing director at Dounreay, says parent companies Babcock International and its US partners are committed to helping bodies such as HIE as the site closes down.
"June brings great strengths to this task. She also has the ability to reach back into the site's socio-economic team as well as the parent bodies, such as the Babcock team."
Dounreay and Highlands and Islands Enterprise Working Together – read more at the HIE website
Published 4 July 2012