Dounreay staff raises £6k for Christmas charities
Dounreay staff dug deep into their pockets in December to support a local children's gift appeal.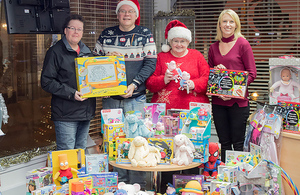 The Dounreay workforce raised £3,500 for the Caithness FM Christmas gift appeal fund at the site's Christmas lunches. The charity, which is run by local radio station Caithness FM, donates Christmas gifts for children in Caithness who might not otherwise receive one.
The Dounreay Employees Charity Fund also donated £1,000 worth of toys. The gifts were bought from Thurso toy shop Temptations which added an extra £100 of toys. Bob and Jackie Johnson of Caithness FM are pictured receiving the toys from Dounreay's Sandra Owsnett and Marie Mackay. Dounreay staff donate a portion of their salary to the fund.
Jackie Johnson said:
I honestly am amazed at the generosity of people on this site. The first year we were delighted when we were presented with £1615, last year we were genuinely amazed to receive £2569 but this year has just been incredible! We believe the sum to be £3500 and that's a lot of toys! There are going to be some very happy children in Caithness this year.

We love the fact that local people are so generously supporting local children. We get small children coming and handing in gifts they've bought for "children Santa doesn't have anything for" – it's really lovely! The toy appeal could not happen without this kind of support.
Dounreay's other fundraising activities brought the total raised this Christmas to a staggering £5,932. Staff donated £446 to the Thurso and Wick Christmas lights funds and the Dounreay Fire Ambulance and Rescue Service raised £1626.86 as part of their Movember charity campaign. Dounreay apprentices offered a present wrapping service in the Dounreay information office in Thurso in December, raising around £360 which will be donated to a local charity in the New Year.
Dounreay Support Director, Craig Brown, said:
The Dounreay workforce regularly raises money for local charities, and at this time of year it is particularly good to remember those less fortunate than ourselves.
Published 4 January 2017