News story
Dounreay spend with smaller contractors increasing
The Nuclear Decommissioning Authority has published figures showing that levels of contract spending with smaller businesses is increasing across their sites.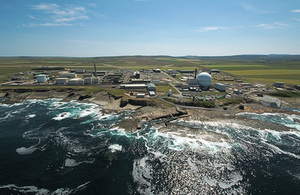 The aim is to spend at least 20 per cent of the annual £1.6 billion supply chain budget with small and medium size enterprises (SMEs) by 2015.
Dounreay is supporting the NDA to meet this target.
Dounreay's head of Commercial, Joe Kane, explained. "During the last financial year we spent 17 per cent of our budget with SMEs.
"This year we expect to spend 24 per cent with them by simplifying our procurement procedures and ensuring that opportunities are more accessible for SMEs.
"SMEs often bring innovation and technical experience which is instrumental in helping us to decommission the site."
SMEs are defined as an independent business employing 250 staff or less, with a turnover of up to €50m or an annual balance sheet no greater than €43m.
Read the NDA press release on their website.
Published 13 August 2013