News story
Dounreay scoops top safety awards
Dounreay has taken the top award in its sector at the British Safety Council's prestigious international safety awards.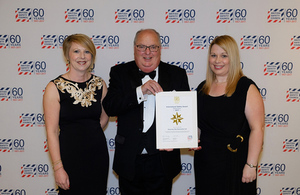 The British Safety Council's sector awards recognise best practice across 13 different industries after scrutiny by a panel of independent adjudicators.
Dounreay was also 1 of only 31 organisations worldwide to receive an International Safety Award with distinction following rigorous assessment of its health and safety policies and procedures.
Jacquelene Macleod and Kirsten Johnson from Dounreay's safety team collected the trophies on behalf of the company at an event which also celebrated the 60th anniversary of the British Safety Council.
Chief Nuclear Officer Steve Beckitt commented:
"Dounreay is delighted to have been judged as an outstanding business in the power and utilities sector. We are clear about our commitment to health and safety and we constantly work to improve our culture year on year."
Dounreay is responsible for the clean-up and demolition of the UK's former centre of fast reactor research and development.
Published 15 May 2017