News story
Dounreay photos first on show at new national nuclear archive
Dounreay's photographic collection has been transferred to Nucleus, the nuclear and Caithness archive.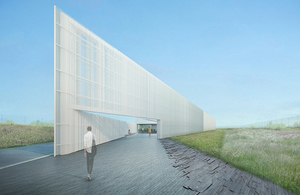 More than 320,000 items from Dounreay's historic photo collection have been transferred to the Nuclear Decommissioning Authority's new national archive in time for its opening in Wick.
Nucleus, the nuclear and Caithness archive, will bring together a vast collection of records, plans, photographs and drawings from the earliest days of the UK's nuclear industry.
The earliest photograph to be moved from the site dates back as far as 1948. Ian Pearson, Dounreay Archive Manager, said:
"I am very pleased to see the collection remain intact and transferred to the perfect final resting place, where it will be treated with all the respect that it deserves. Nucleus is purpose built to hold such collections which will be invaluable to researchers of the future. I guarantee that everyone in Caithness will find at least 1 photograph they can identify with and it's even possible you could feature in 1 or 2."
The facility represents a £21 million investment for the NDA at Wick which, as well as creating a long-term safe home for nuclear records, is another opportunity to help offset the economic impact of decommissioning the Dounreay site.
With the photographic library now transferred, focus turns to more than 200 tonnes of paperwork, stored in more than 25,000 boxes at Dounreay which is set to arrive at Nucleus later this year. Archives from other UK nuclear sites will then follow populating up to 26km of shelving installed in a series of secure pods.
Read the full story about the opening on the NDA website.
Published 16 February 2017