News story
Dounreay modifies beach monitoring system
Dounreay has modified the equipment used to detect radioactive particles on beaches near the site.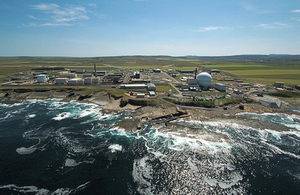 The modification was made following the discovery of a particle last year with an unusual radiation signal. It makes the system more sensitive to the detection of other such particles, without affecting its ability to detect the usual type of particle that has been found near Dounreay.
The modified system is now being used routinely on beaches near the site.
The unusual particle was detected in February 2012 during routine beach monitoring. Laboratory analysis showed it was dominated by beta radiation rather than the gamma radiation normally associated with particle finds. Beta radiation is less penetrative than gamma radiation.
Following discussion with independent experts, regulators and beaches monitoring contractor Nuvia, the plastic covering that protects the detection sensors was replaced with a carbon fibre covering.
Carbon fibre is less dense than plastic, improving the capability of the equipment to detect other such particles that may be present.
DSRL is continuing to monitor beaches to a programme regulated by SEPA. DSRL has applied for a new Authorisation under the Radioactive Substances Act, under which the beaches monitoring programme may change.
In its assessment issued as part of the Authorisation consultation process, SEPA concluded that that the continued monitoring of some beaches may not be warranted and that for others the frequency of monitoring could be reduced. In its response to the consultation, DSRL requested that SEPA consider maintaining the existing schedule and frequency of monitoring for the time being at the beach where the unusual particle was found and the Dounreay foreshore.
The Particles Retrieval Advisory Group, a body of independent experts set up to advise SEPA and DSRL, are assessing the results of all on-shore and off-shore monitoring and retrieval operations and are expected to publish their final report soon.
Published 13 June 2013