News story
Dounreay less important to north economy, report reveals
The economy in the north of Scotland is now less dependent on Dounreay, a new report published today has found.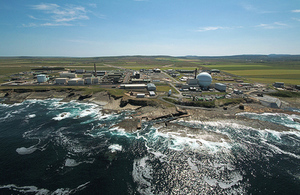 Local agencies and business leaders have welcomed the findings of the study which show the percentage of jobs dependent upon Dounreay has decreased from 15% to 10% since 2006, and the number of new businesses being created has risen.
The study – "The Socio-economic Impacts of Dounreay Decommissioning" – was commissioned by Highlands and Islands Enterprise (HIE) and Dounreay Site Restoration Ltd (DSRL) from Grangeston Economics as a follow-up to a previous study from 2006. It examined economic data as well as surveying Dounreay workers, contractors and local supply-chain companies.
Of the supply chain companies surveyed in association with Caithness Chamber of Commerce, 78% said their turnover had increased since 2006, and almost half of those said the proportion of their turnover linked to Dounreay work had decreased.
Data collated by HIE, Business Gateway and North Highland Regeneration Fund show that over 150 businesses have committed to creating or retaining hundreds of jobs in the last five years.
In April, the Nuclear Decommissioning Authority awarded a contract to a consortium of Babcock International, CHM2HILL and URS to complete the clean-up and closure of the site by 2022-25.
Roger Hardy, Babcock's managing director of the site licence company, says economic regeneration is part of their vision to make Dounreay the most successful decommissioning project in Europe.
"The skills and expertise deployed on decommissioning one of the world's most difficult nuclear sites are a major asset upon which to build a new economic future," he said.
"The challenge is to capitalise on those skills and expertise as they become surplus to the decommissioning programme. This report contains positive messages about people's outlook, their confidence and their hunger to adjust to a future without Dounreay.
"Babcock and our business partners will work with local agencies and companies to stimulate opportunities to harness this huge potential and ensure the legacy of Dounreay is one of skills and enterprise."
Published 27 June 2012