News story
Dounreay increases apprentice intake
This year Dounreay welcomes the recruitment of an additional two apprentices as part of its annual intake.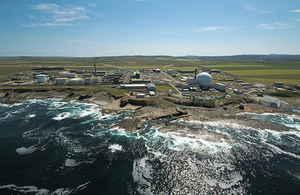 With all crafts benefiting across the three disciplines of mechanical, instrument and electrical, this year's intake has risen to nine, with three new recruits in each of the areas.
Sam Parsons is the tenth apprentice, who has joined DSRL as a 3rd year electrical apprentice from the North Highland College Community Apprenticeship where he completed his first two years.
DSRL's training and development manager, Jillian Bundy, said:
We are very pleased to be able to increase our intake this year. As well as needing trained and experienced workers to decommission the site, Dounreay has a commitment to socio-economics and is working to help the local economy retain the high-quality benefits of investment in training when it's no longer needed by the site.
A new generation of skilled workers will be needed in the county to make the most of the investment prospects being offered locally as Dounreay decommissioning progresses and the site prepares for closure.
Mark Rouse, Dounreay's managing director, was on hand to welcome the new apprentices, and said:
There are years of guaranteed work at Dounreay that you can take real pride in being a part of. We welcome you on this journey with us and we hope a lot of what you learn here will serve you for the rest of your lives, both at home and at work.
Talking to the apprentices, Mark explained:
We remain committed to the apprenticeship scheme because it is the life blood of the company. As your life evolves we will support you and guide you to make the most of the opportunities you are presented with and help you in your career as you start a lifelong journey in the nuclear industry.
Well over a thousand people have served their time as apprentices at Dounreay and many are now located across the world using the skills and knowledge they have acquired here.
Published 8 September 2014