Dounreay hosts IAEA meeting for 26 countries
Dounreay shared its knowledge of nuclear decommissioning with more than 50 specialists who attended an International Atomic Energy Agency meeting at the site last week.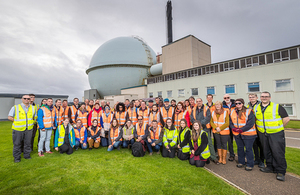 Drawn from industry, government, regulators and academia, the group travelled to Caithness in Scotland to take part in a technical meeting about the work needed to leave the site in a safe condition for future generations. Its particular focus was contaminated land and the use of characterisation approaches.
Dounreay is recognised as one of the most complex nuclear site closure projects, involving the clean-up and demolition of dozens of facilities contaminated with radioactivity. It includes an extensive programme to characterise land affected by historic operations and the development of strategies to protect future generations once the site is closed.
Specialists from 26 countries took part in the technical meeting, entitled: 'Achieving the Site End State: Characterisation Strategies and Instrumentation for Land Contamination.'
Iain Darby, senior environmental specialist at Dounreay, organised the event and said the focus on the site clean-up work allowed Dounreay to share its experience with a global audience.
Panebi Jessica Imbiakpa, who works for the nuclear regulatory body in Nigeria, said the visit is yielding important information that can help with their control of radioactive materials:
I am learning a few things about how they do the in-situ measurements, about how they do different things with environmental monitoring which will be a lot of help with my organisation.
Oleg Voitsekhovych, an environmental radiation monitoring specialist in Ukraine, added that the technical meeting allowed countries with legacy sites to learn how Dounreay was dealing with its own legacy issues.
Przemyslaw Imielski, who provides technical support on decommissioning and waste management to the government in Germany, said the focus on end states was particularly important to his own country where many reactors are about to be decommissioned.
Once the UK's centre of fast reactor research, Dounreay is now aiming to be recognised globally for decommissioning excellence. The work is being delivered by Dounreay Site Restoration Limited on behalf of the Nuclear Decommissioning Authority.
Published 15 October 2019